INSIGHTS
Wellness Trends
Making Waves
The impact of COVID-19 has forced the hand of corporates who weren't already onboard to recognise and promote new corporate wellness programs.
A renewed focus on employee health and wellbeing is driving adoption of corporate wellbeing programs, with corporates increasingly aligning wellbeing with company mission. Asia Pacific businesses have bolstered their wellness programs and empowered their communications teams to play a significant role in the implementation through the deployment of innovative communications initiatives.
Andrews Partnership surveyed over 50 organisations across APAC, including industries such as financial and professional services, retail, FMCG, healthcare companies, to document the initiatives companies are putting in place, and track how they have progressed over the past 12 months.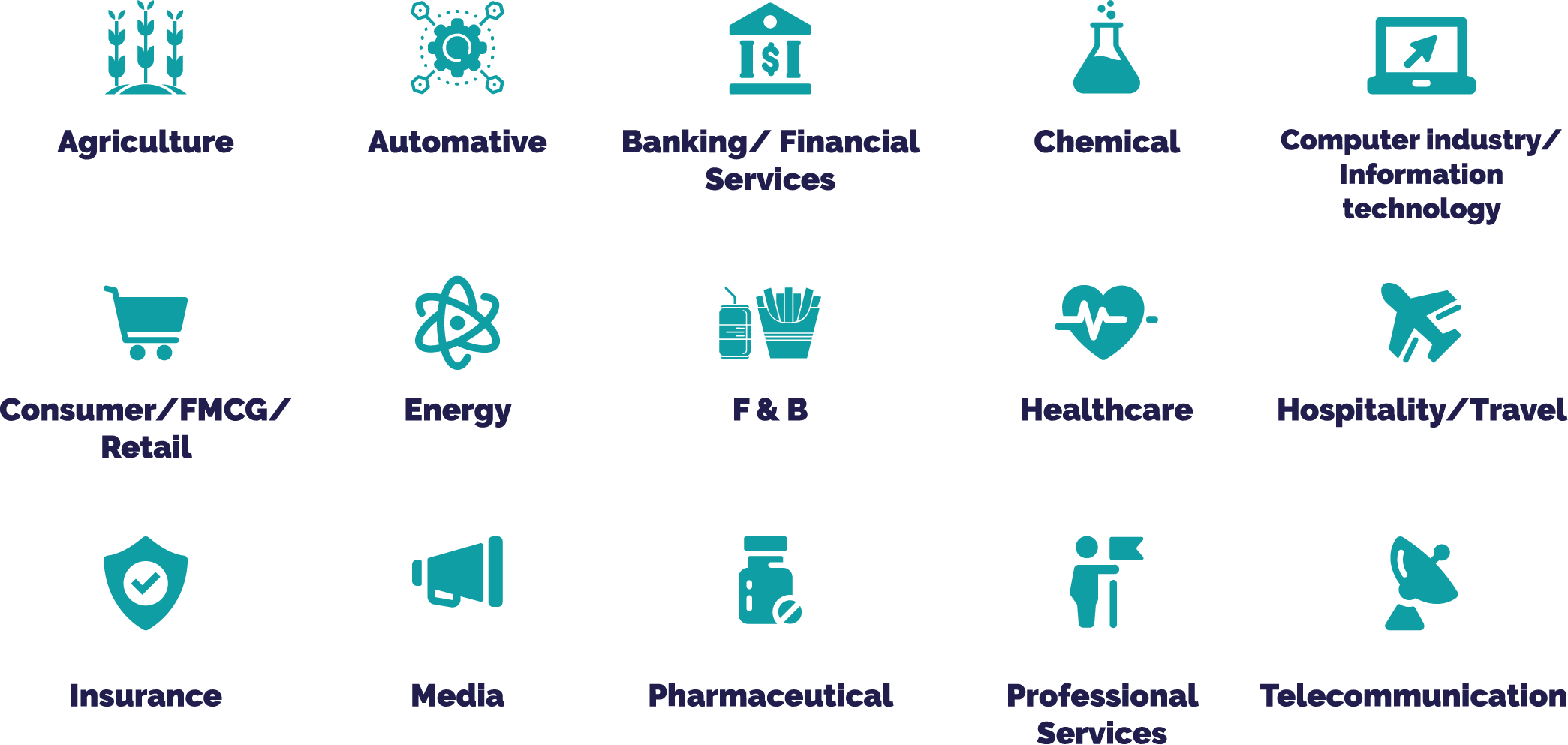 Sixty-one percent of respondents said their companies' provision of wellness programs had 'increased' over the last 12 months, with 22% saying it had 'significantly increased'. Employee wellbeing has become an essential part of the modern-day business world, and our research suggests it is a key driver for employees when choosing their employer.
With the World Health Organization predicting that one in four will be affected by mental issues, it was not surprising to see that mental health counselling took second place in our list of top wellness programs implemented in 2020, just behind flexible working conditions.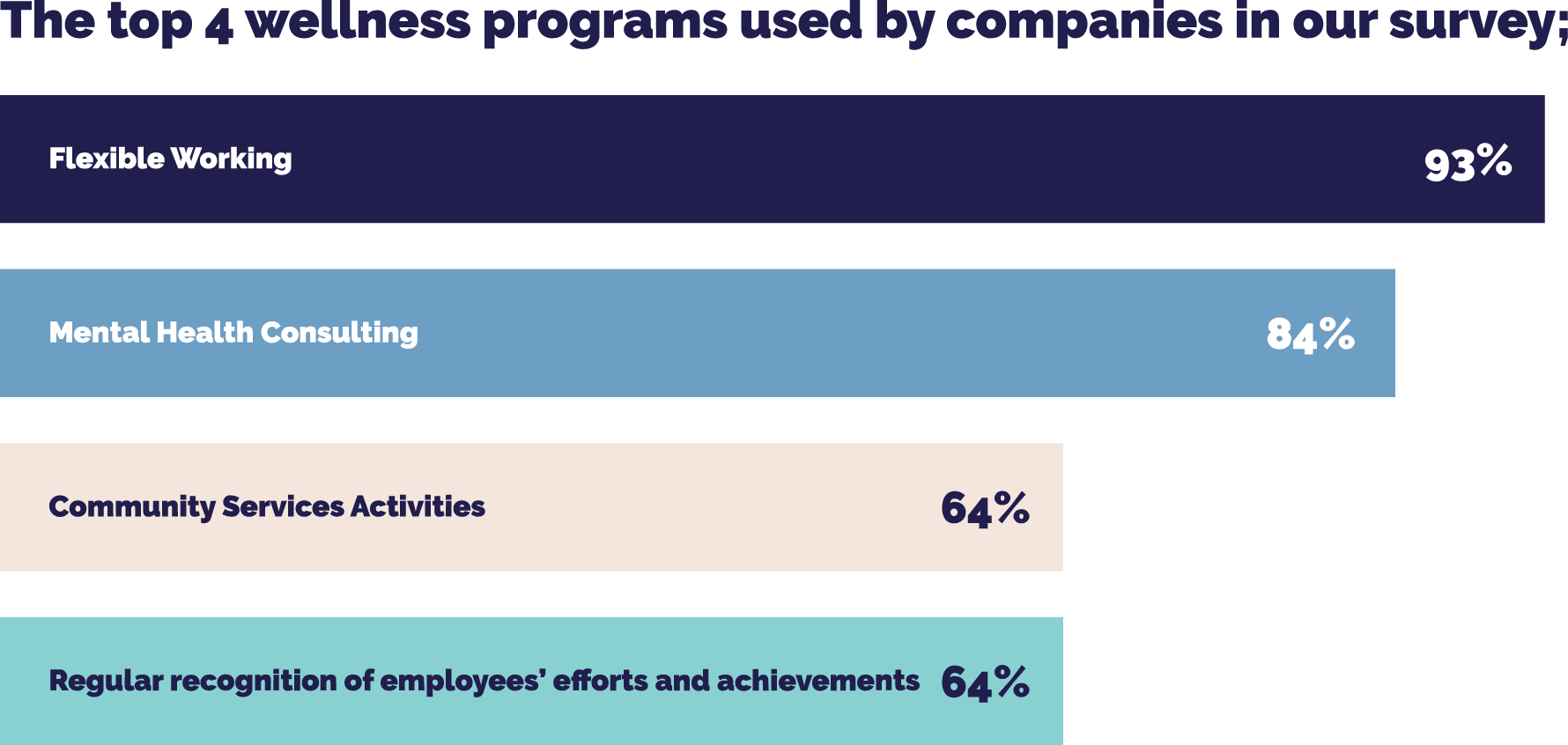 The Andrews Partnership study found that corporate childcare options in the office were non-existent and even supported gym memberships were down at just over 10%.
Extended parental leave, however, was an increasingly popular benefit, with almost half of companies surveyed offering it to their employees.
SO HOW AND WHO ROLLS OUT THESE INITIATIVES, AND WHAT CHANNELS ARE THEY USING TO COMMUNICATE THEIR MESSAGE?
We saw the responsibility still falling to IC Teams –they're listed as #2 after HR for implementing wellness programs. Four out of five (80%) use emails to get the messaging out, followed by the use of the company intranet, newsletter or enterprise social networking services. Unsurprisingly, this year we have relied less on office-based campaigns like desktop screen savers and brochures.
Innovative channels coming into play:
Internal workshops
Social media
Video

If employees see their CEO participating in health programs, it send a valuable signal and can significantly move the needle on wider companywide participation. It was reassuring to see that almost half of our participants noted that their CEO regularly plays an active and visible role in reinforcing the company's commitment to employee well-being.
DOES YOUR CEO/ LEADERSHIP TEAM PLAY AN ACTIVE AND VISIBLE ROLE IN REINFORCING THE COMPANY'S COMMITMENT TO EMPLOYEE WELL-BEING?

The primary result of effective wellness programs is lower staff turnover and greater productivity. But how can you tell if your employees feel excited and engaged by wellness efforts? Well, the most established route seems to be via the employee survey, with some companies also relying on regular huddles and catch ups or simply by measuring participation in activities.
The dissemination of messaging sits at the doors of both HR and Communications, but how are companies facilitating managers with the tools to provide support to their own immediate teams? One in two (50%) of those surveyed are offered mental health and stress management training and how to recognise when people need help.
Despite today's reliance on AI and Technology to support remote working, line managers play a crucial role in supporting employees' wellbeing on a day-to-day basis. Managers can fall into two brackets, recognised as either a 'gatekeeper' or a 'multiplier'. The former prevents their team from taking part, or doesn't actively demonstrate that they value health and wellness plans, whereas the latter enables and drives engagement. Surprisingly, our survey unearthed that at least 15% of companies don't provide any formal training.
WHAT TRAINING DOES YOUR COMPANY OFFER LINE MANAGERS TO HELP PROVIDE PROFESSIONAL SUPPORT?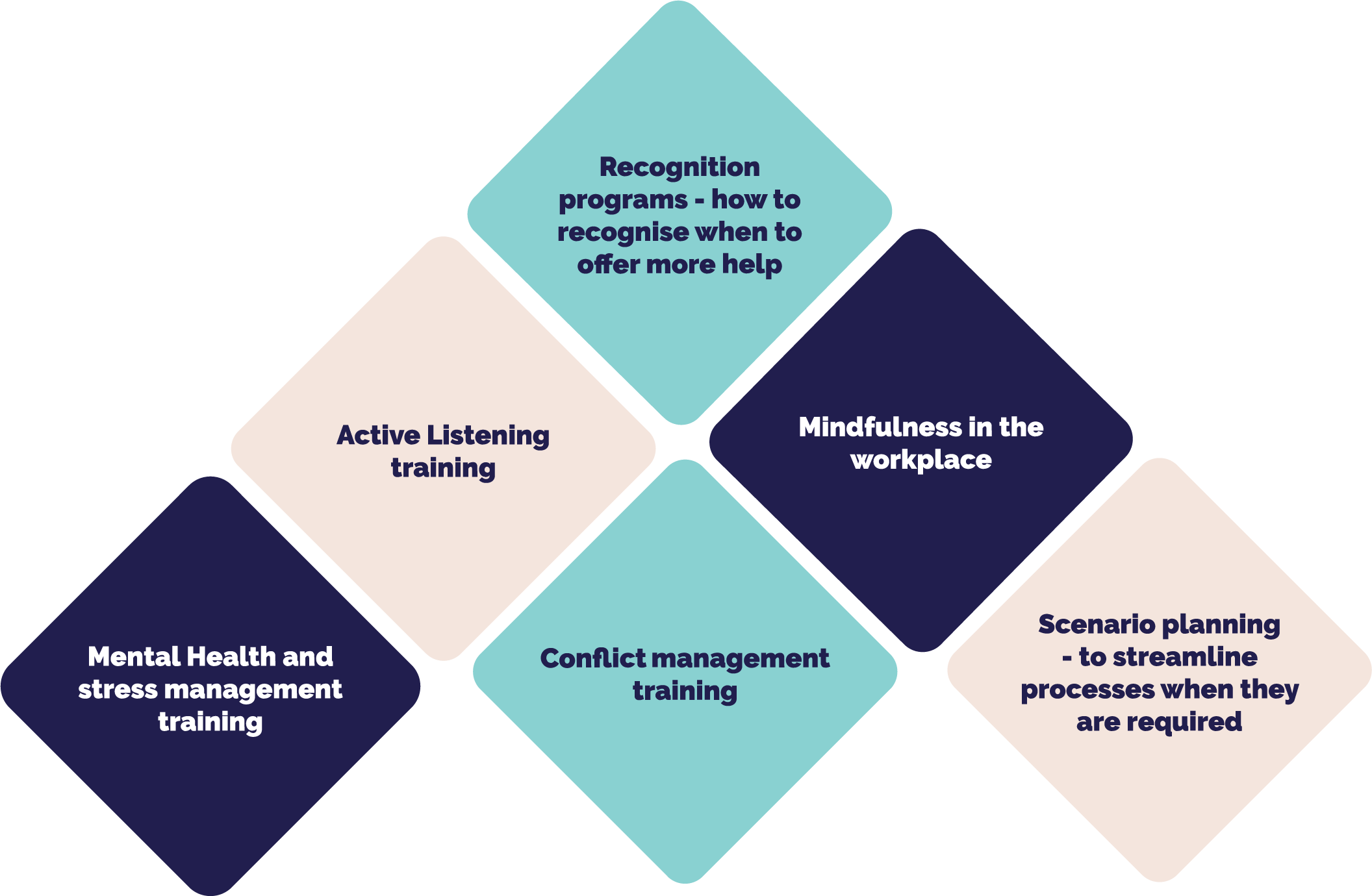 WHAT WILL 2021 BRING FOR WELLNESS PROGRAMS?
Workforce digital transformation continues to be the focus point for the next year, we will see the further evolution of wellbeing apps and telemedicine services. Cost control will be a priority where vendor selection is concerned, with more time spent on evaluating the usage and benefits to employees.
WHAT WILL EMPLOYEES WANT TO SEE MORE OF IN 2021…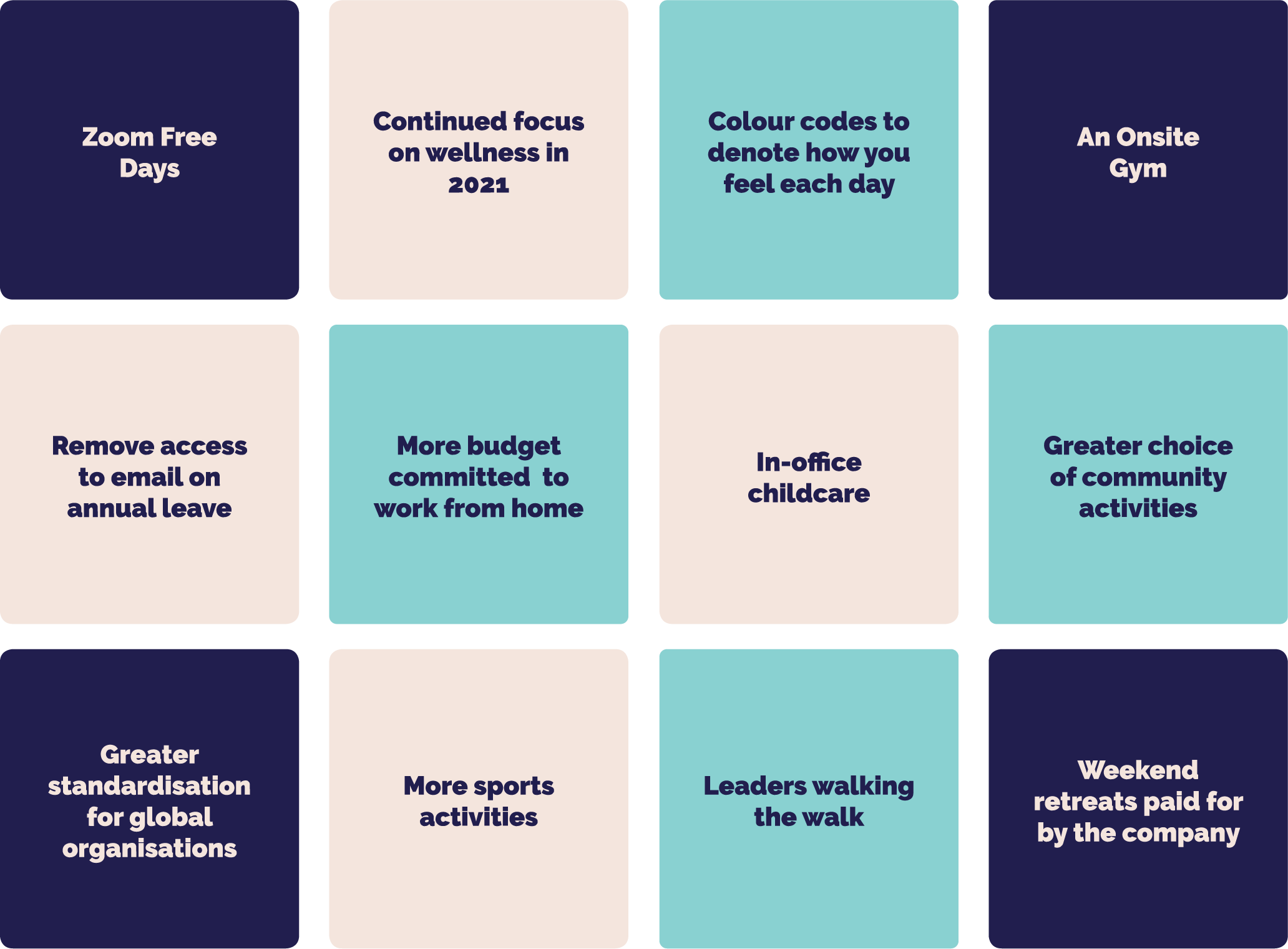 Andrews Partnership are the reputation experts, with offices in Hong Kong and Singapore working across Asia, as the leading specialist corporate affairs, communications and investor relations executive search firm. We excel at understanding each organisation's unique challenges and appointing the right talent, who make meaningful business impact.